SPECIAL EVENTS!
 Coming up … Stay tuned!
__________________________________________________________________________________________________
Why Not Sprout?! PAST SPECIAL EVENTS
A special heart-felt thank you to everyone who came out for these events!  We really appreciate your participation and your support!
========================================================================
How Full is Your Bucket?
FREE TO THE PUBLIC–  6:30PM (refreshments at 6:15) on November 13, 2018 — JUST CALL THE LIBRARY TO RESERVE YOUR SPACE! 215.646.1072.  Click HERE for the address and directions.
Research shows that directing our attention to what is positive in ourselves and others is essential to maintaining well-being, building resilience, and gaining perspective.  This is often easier said than done.  In this workshop, we'll have some fun – meet new humans – and use our creativity (and our Playdough) to design our very own buckets.  We'll explore some findings from the fields of positive psychology and mindfulness, and we'll learn some concrete ways to fill our buckets.  You'll leave with a full bucket – and a full heart.
I still have my  personal bucket that I created during a similar exercise two years ago.  It is held together with scotch tape and looking rather ratty;  I still find it uplifting to read the notes inside whenever I need a boost.
========================================================================
Mindfulness Meditation – Summer Circles – LAST ONE FOR THE SUMMER – Saturday, August 25 at 10:00 am.

Thinking about starting a Mindfulness Meditation practice?
Want to understand what Mindfulness is all about?
We are encouraging and serving people who are new to mindfulness, meditation – or both. Of course, experienced humans are welcome! Know that we will be covering preliminary and introductory concepts.
Mindfulness meditation offers many proven benefits. A regular practice improves emotional stability and physical wellbeing on a variety of measures. More to the point, this practice helps you slow down – pause – and stay present.
THIS IS YOUR LIFE – BE PRESENT FOR IT.
Attending Mindfulness Meditation Summer Circles will help you…
∞ Delve into the foundations of mindfulness practice
∞ Stay motivated and on-track; integrate mindfulness into your life
∞ Enjoy the quality of energy generated when folks meditate together
∞ Connect with others, create community, and feel held and supported
∞ Nurture and deepen your practice
∞ Each meeting will last ~75-90 minutes
∞ Format-Facilitated & semi-structured, focusing on a different aspect of mindfulness
∞ PLEASE sign up in advance through the Meet Up group of the same name, call 610.222.0700 and leave a message, or email Linda@whynotsprout.com space is limited; ~12-14 humans at the most
∞ Investment: I would do this for free if I could – and maybe someday I will be able to do that… it is my dream. For now, to keep our doors open we are asking $12 for a session.  Students 18-25 and those who are Young at Heart (62+) are $10 for a single session.  Feeling crunched? Donate as you are able.
We accept cash or checks at the space; Paypal or Square coming soon!
========================================================================
Final Summer Sampler Meditation: Restorative – Sunday, August 26 at 6 pm.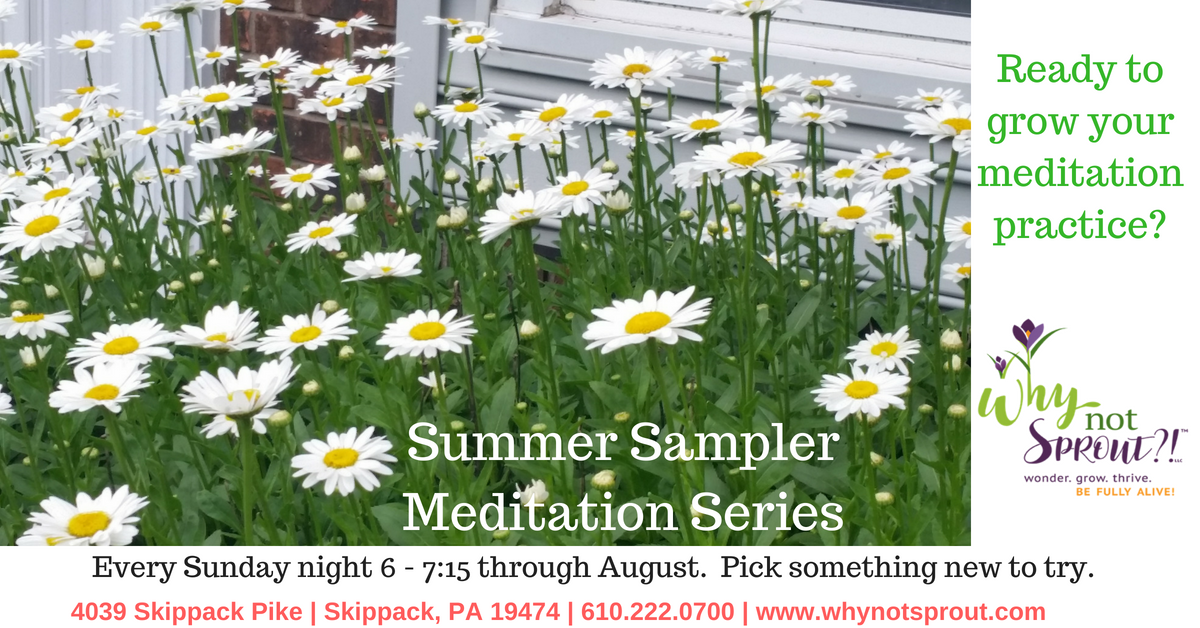 Offered every Sunday evening through August.  You can join us for one meditation – or join us for as many as you want… the choice is yours!
Structured differently from our other meditation offerings, the Summer Sampler Meditation Series is your opportunity to learn about and try different types of meditation, to see what works best for you. In each class you will …
Learn about the meditation
Practice it
Reflect on your experience
Share your thoughts
Single Summer Sampler Meditation            $  12

Restorative Yoga & Meditation                                                                                  August 26 – Please call

This type of class is likely very different from what you have come to associate with yoga.  You will spend the entire time seated or lying down – no mats, no standing, no balancing, no flowing from pose to pose. Your body will be fully supported with blankets, bolsters, pillows, cushions and foam blocks so that your muscles are able to fully release any tension you have accumulated, allowing you to wind down and open up mentally and physically. You will feel held, nurtured, and safe. Guided meditation will be interwoven to further enhance the experience. The quiet nature, deep breathing and calming postures of restorative yoga gives your whole being permission to relax deeply, bringing your central nervous system back into balance with a sense of healing and recuperation. This is not intended to be a full restorative yoga class.  Call 610.222.0700 or email linda@whynotsprout.com to reserve your space!   Registration closes at 4 pm on Sunday, August 26!  
========================================================================
Partner's Candlelight Meditation – Last chance for the summer on August 17!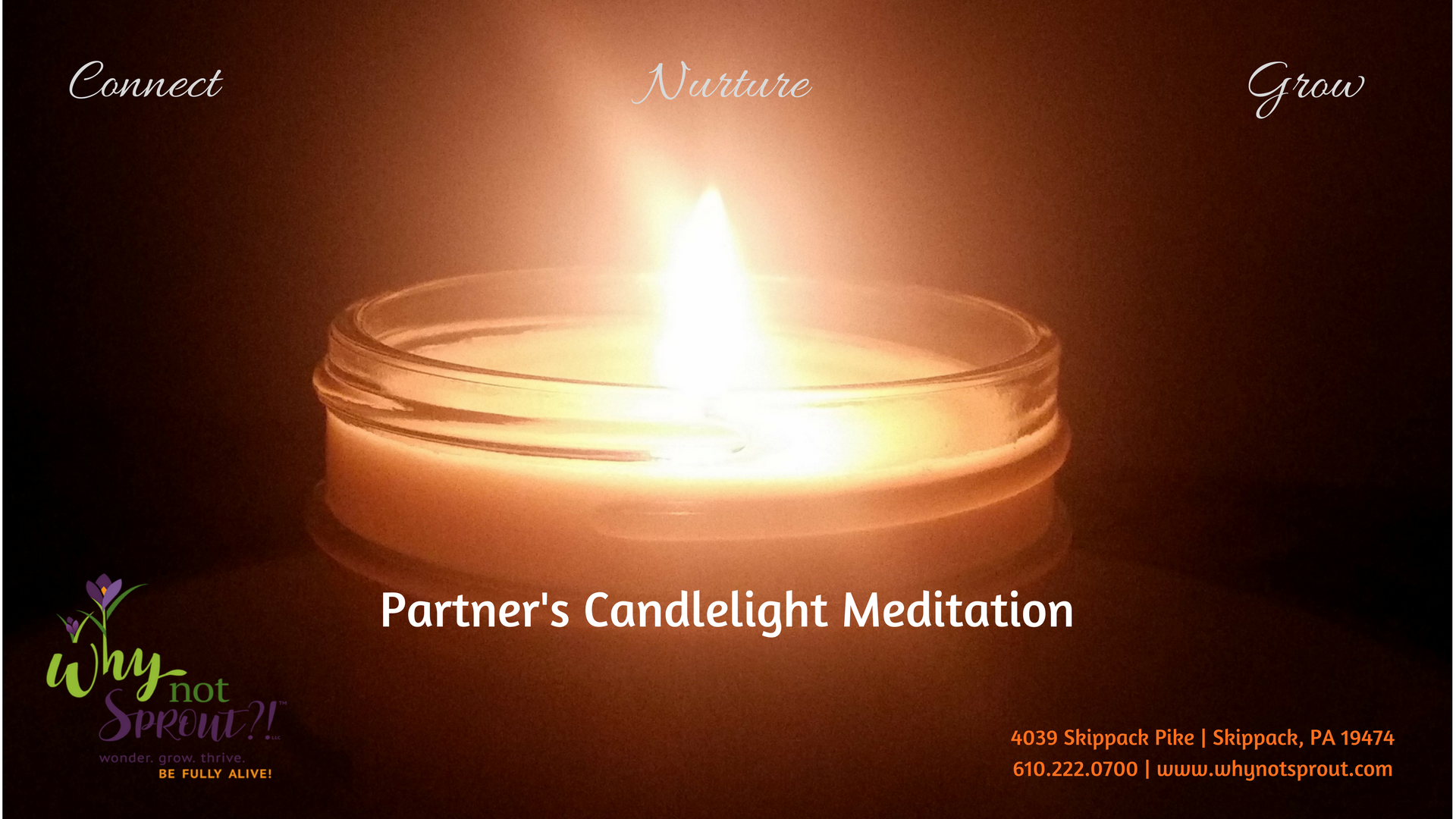 "The most precious gift we can offer anyone is our attention.  When mindfulness embraces those we love, they will bloom like flowers." – Thich Nhat Hanh
 In our busy life, it is often difficult to create space for quality time with our loved ones.  Nurture your connections; grow your relationship.
You will be led on a meditative journey with your partner that will enhance feelings of warmth and closeness … breathing in sync… practicing trust… comforting touch… partner stretching… shared restorative & relaxation yoga poses… and more
You can use the link below to register in advance by August 16.
 August 17
Time:  7:00 pm – 8:30 pm

Cost:  $36 per couple per class
Notes:  Our space is small and intimate; Class size is limited to 6 couples; Dress Comfortably Appropriate for adults 18+
 This is your life – BE PRESENT FOR IT!
Call or go online to RESERVE YOUR SPACE today!
========================================================================
Mindful Walking Meditation – AUGUST 12 is being RESCHEDULED TO AUGUST 19.  There is thunder and lightning in the air, and that is not exactly the kind of transformative experience we are hoping for!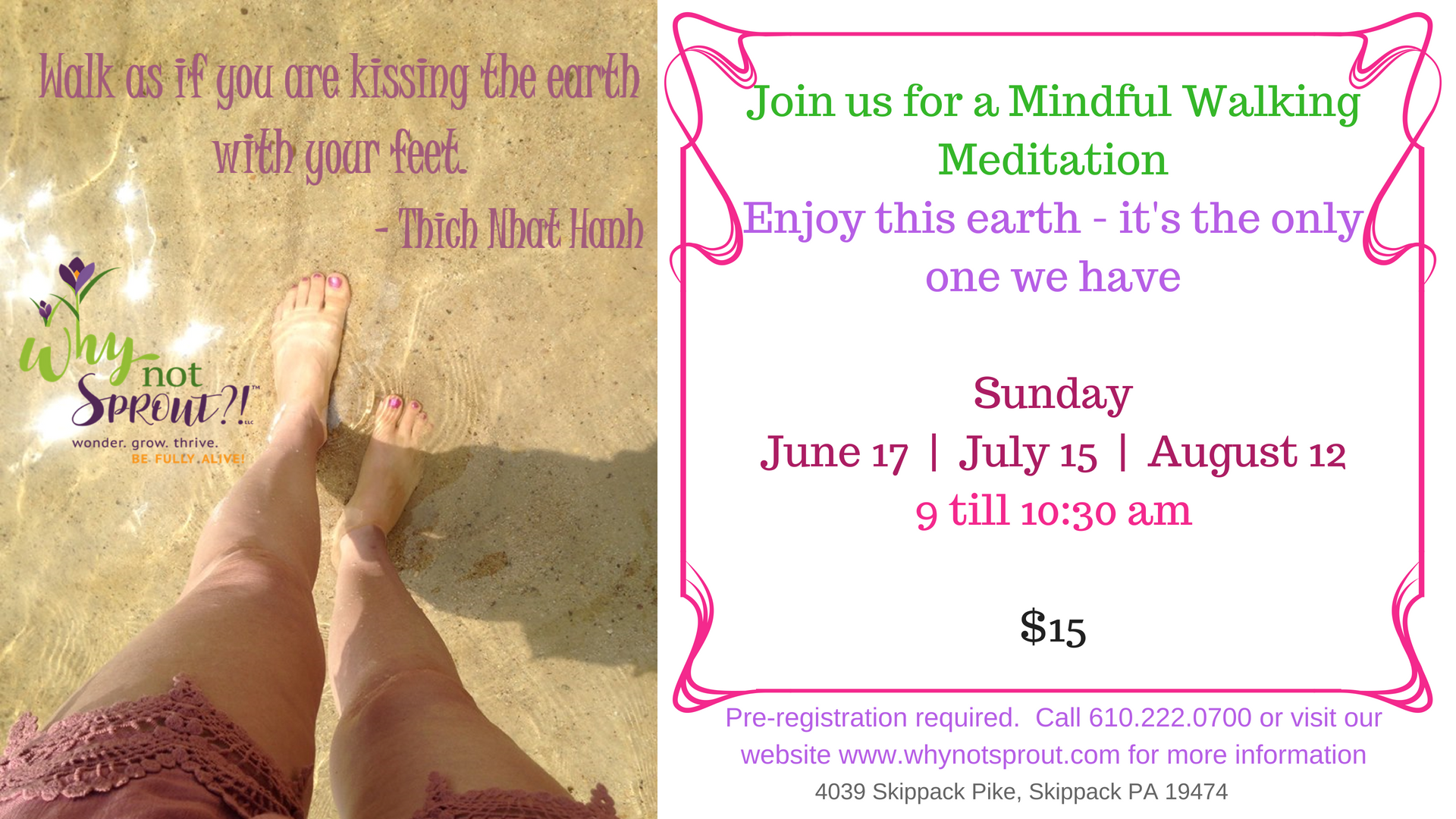 While we may not have sandy beaches in Skippack, the idea is the same!
Join us on Sunday morning, August 19 at 9 am as we take a slow, deliberate walk through Skippack (off-road). We'll be walking from Why Not Sprout?! to Church Road Park and back. As we walk, we'll spend time paying attention to everything around us with intention – experiencing the sights, sounds, smells and touch of the earth (and hopefully the sun!). We will be mindful, grateful and appreciative of all that we have, and return to our day refreshed and invigorated. Want to know more? Call Linda at 610.222.0700 or email her at linda@whynotsprout.com.  The cost is $15, and you can pay at the door.  We need to know how many humans to expect, so please pre-register by calling or emailing Linda! We plan to keep the group to no more than 20 humans who are 18 and older.
========================================================================
 LAUGHTER YOGA IS CAME TO SKIPPACK!
WE CREATED SOME POSITIVE VIBES TOGETHER!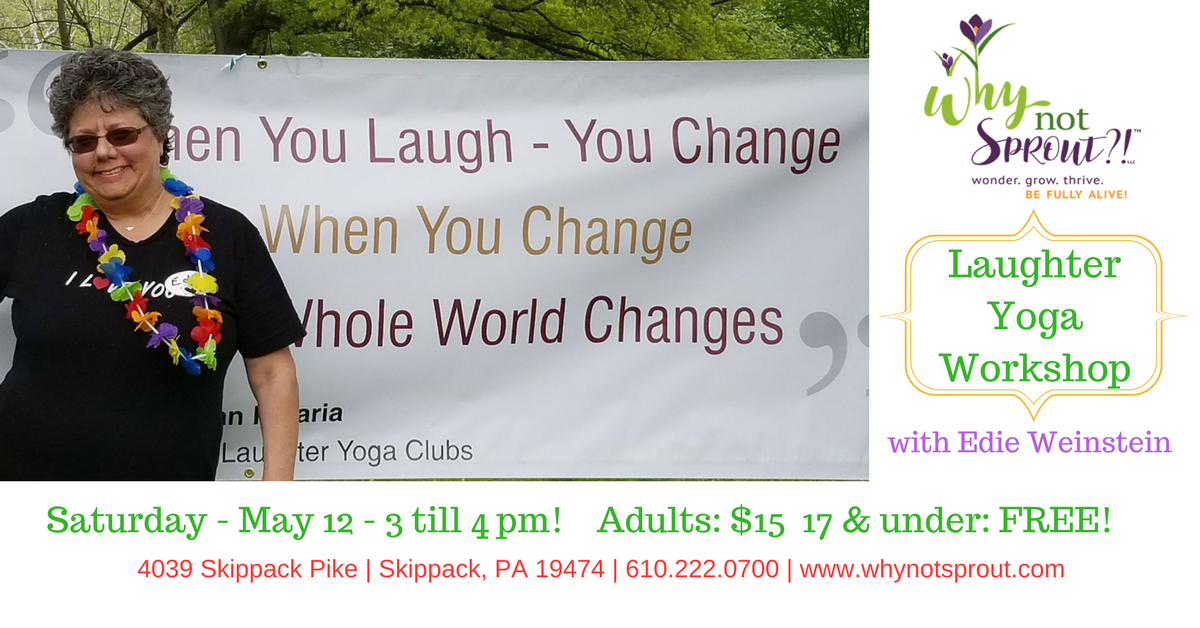 "Laughter is the sun that drives winter from the human face." – Victor Hugo
Laughter Yoga is a doorway into a world of wonder, a plethora of play, a bounty of breathing and a font of fitness. Have you heard of it? It's not what you might think. It is not about getting all stretchy on a mat. There are no traditional yoga poses. You need not even have a sense of humor to engage in it. No jokes or comedy involved.
Laughter Yoga is a practice in which creatively designed laughter exercises are combined with yogic breathing that comes from the diaphragm. It is considered light aerobic exercise that most people can do. Childlike playfulness and a willingness to be lighthearted are part of the process.
Still want more information??  Click HERE!
IMPORTANT NOTES:: FOLKS 17 and young must be accompanied by an adult; signed consents forms are a requirement for participation.
Cash or credit cards accepted – you can pay in advance online or at the door upon arrival
Call 610.222.0700, email linda@whynotsprout.com, or sign up online to reserve your space!
========================================================================
Harness the Power of Body Language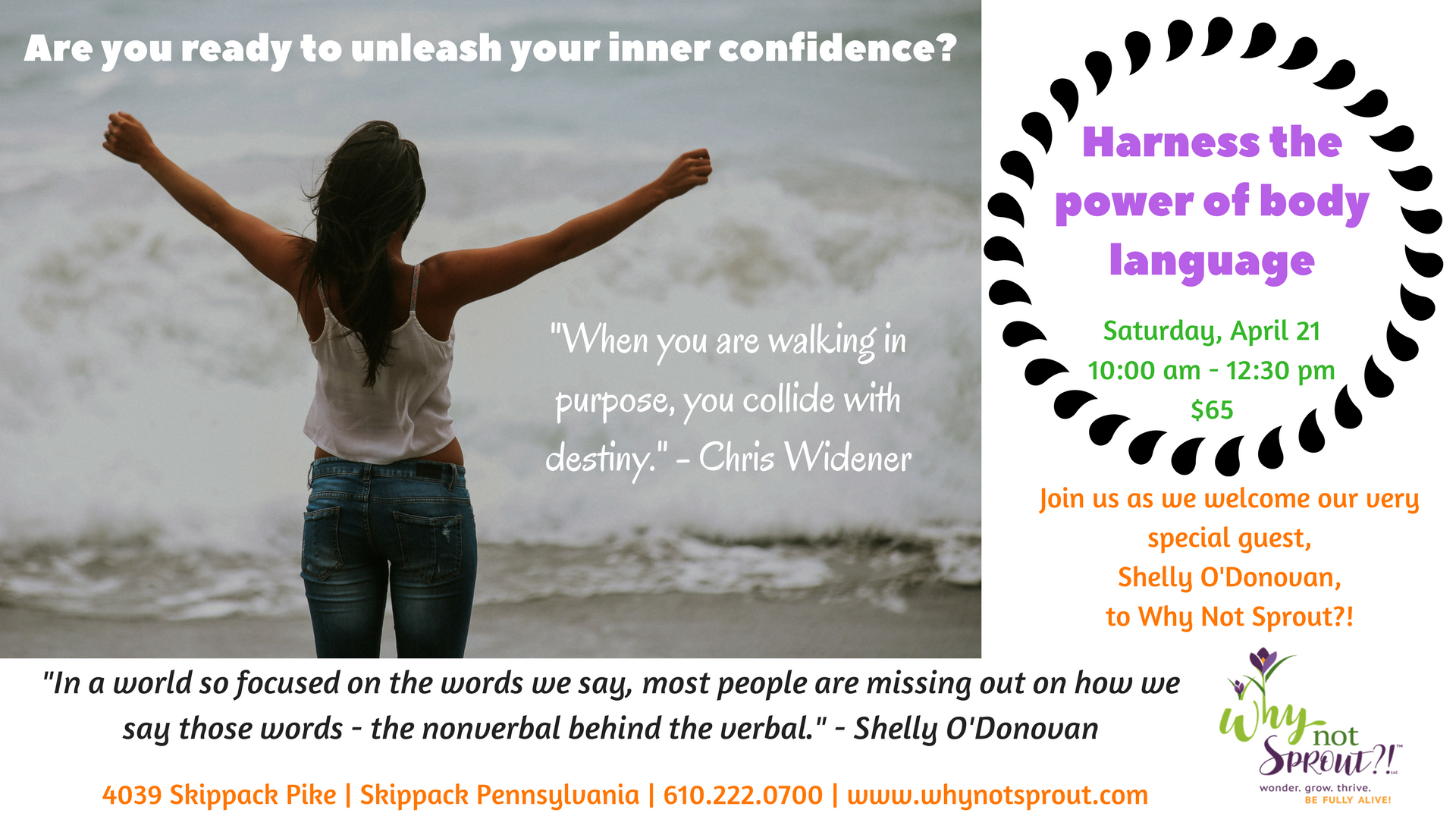 Blurry lines and a masculine-dominated culture have created a need for women to unleash their inner confidence.  In the dating world, the business world, or in social situations – women need to harness their "inner superpower" of body language.
Learning nonverbal communication is a great way to …
Assert control
Communicate power
Exude confidence
… all without saying a word!
We'll talk about attraction and distancing behaviors. We'll explore which body language behaviors benefit us as women… and what works against us.
Learn how you can revolutionize the way you present yourself, change the way you approach interactions and use your unique skills to become the best version of you!
========================================================================
Earth Day Mindful Walking Meditation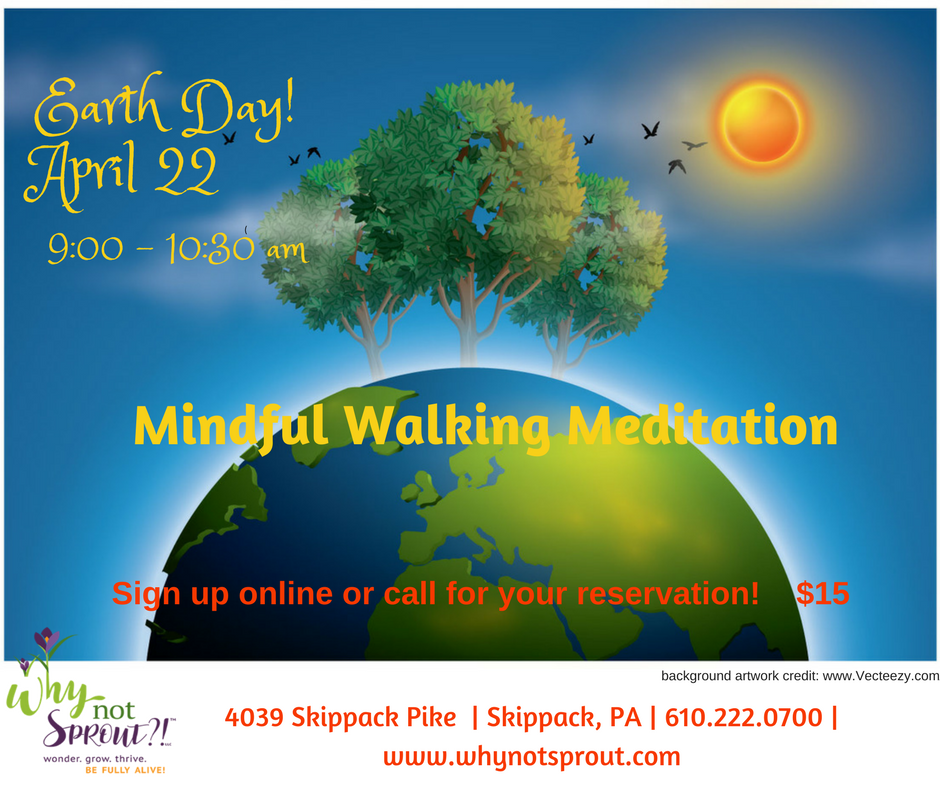 Join us for a slow and mindful walk, as we appreciate all that the earth shares with us.   Meet at Why Not Sprout?!  We'll walk to Church Road Park and back (off-road), taking time to indulge all of our senses along the way as we offer gratitute and appreciation for all the earth offress appropriately for the weather. 
Pre-registration REQUIRED. 
========================================================================
Hibernation Hygge
It's almost time to join the critters as they begin to wake up and welcome the new season!  Stay all night – or make it "lite"!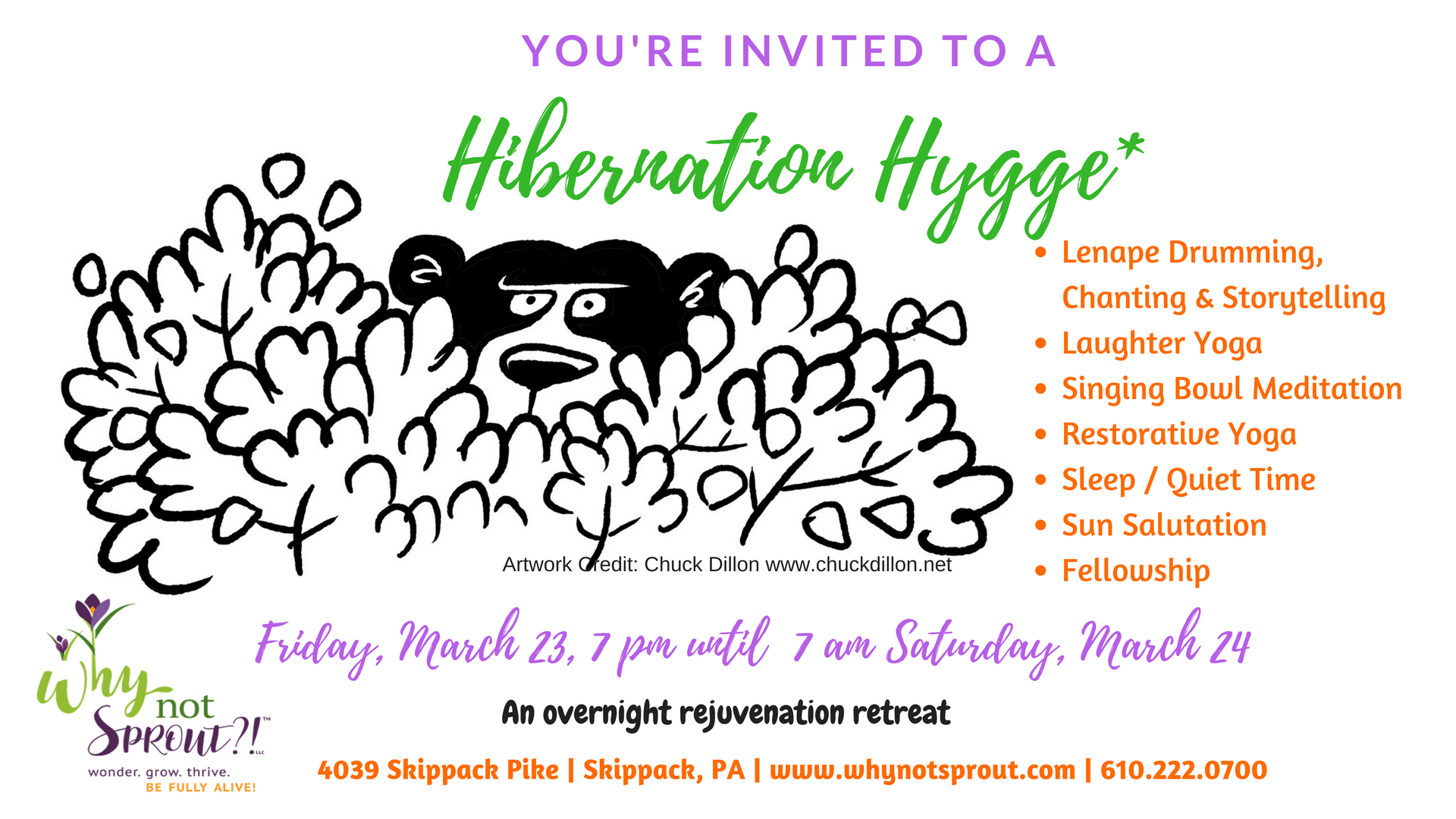 NEW!
LIKE THE IDEA, BUT CAN'T STAY OVER NIGHT?
Try Hygge "Lite"
Friday night, 7 till midnight! Includes everything up until sleep time!
What the heck is a Hygge (pronounced HUE-gah), you ask?
Hygge is the Danish ritual of enjoying life's simple pleasures. The Oxford Dictionary describes hygge as "A quality of coziness and comfortable conviviality that engenders a feeling of contentment or well-being."
Are you feeling as if you've been living burrowed underground or asleep in a cave somewhere for the past few months? Or maybe you wish you HAD been hibernating?   
We're here to help you prepare to come out of hibernation and re-enter the world refreshed and renewed with Skippack's first-ever Hibernation Hygge – an overnight rejuvenation retreat.
"Each person deserves a day away in which no problems are confronted, no solutions searched for."   – Maya Angelou
THIS IS YOUR TIME TO SIMPLY "BE" in the moment!
 ___________________________________________________________________________
Transform Stuck Emotions the Natural Way
Just as there is a calm pool at the bottom of a waterfall, there is a calm place within us all where healing occurs.  A place deep in the center of our being that is unaffected by the rushing waters above.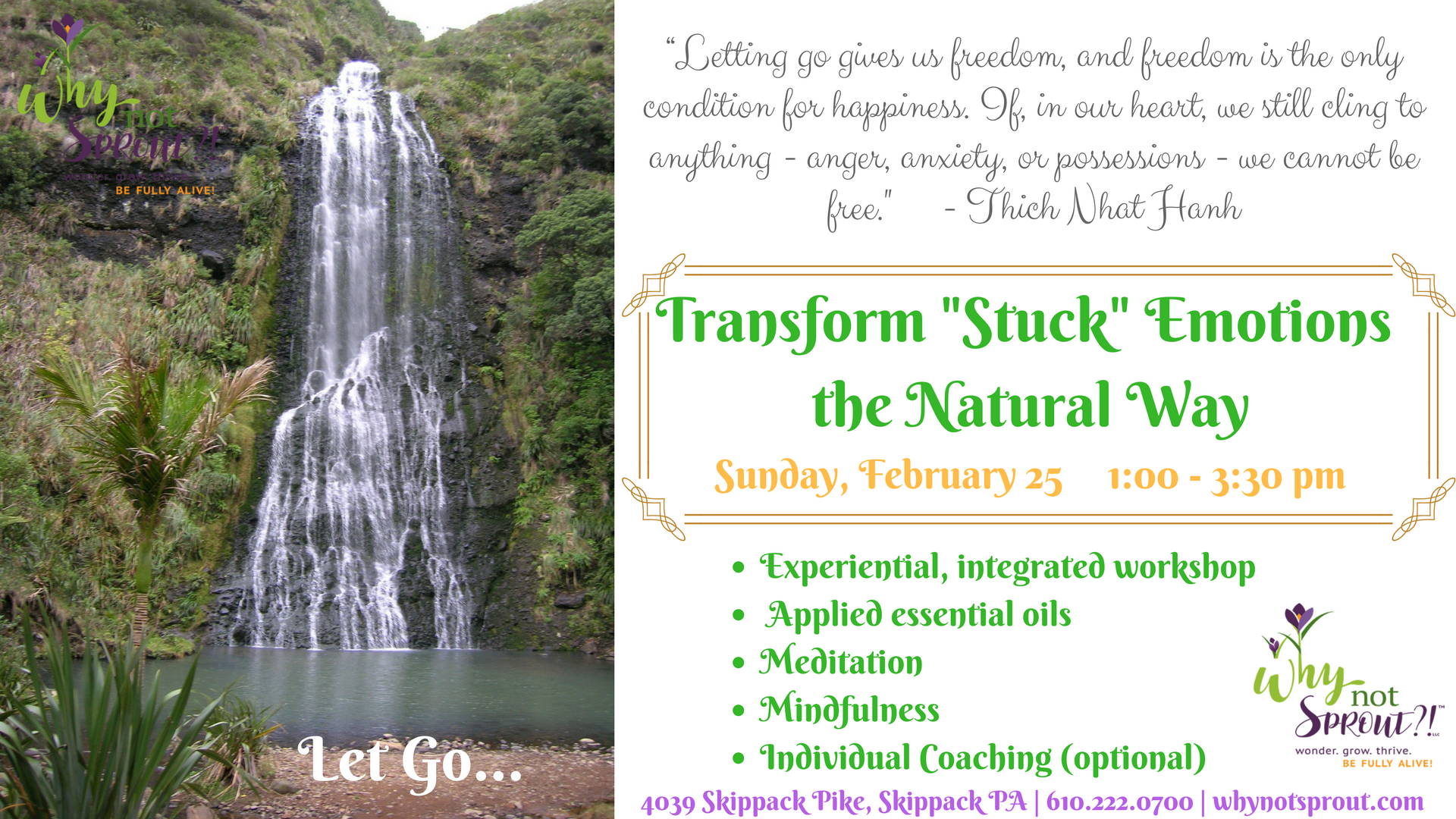 You are invited to let go of what no longer serves you – and grow beyond it as we move through four areas where we are often blocked:   Overwhelm ..  Self-Esteem  ..  Clarity/Vision  ..  EMPOWERMENT
This experiential, integrated workshop includes applied essential oils with meditation and mindfulness strategies.  You will be setting intentions, experiencing guided meditations, journaling about your experiences and sharing your obervations and insights when and if you feel called to do so.  Wear loose and comfortable clothing; expect to be directed to apply oils directly on your skin during the workshop.
 Extras included in the workshop:
The essential oil protocol directions* + 2mL roller bottles of each of the 10 oils used in the workshop
An additional 5 blends that you will make yourself + the recipes & directions for use*
Optional: Three follow-on individual sessions to support your journey… Because unexpected things can come up after workshops like this one, we want you to feel held, cared for and supported in the weeks following the event.  You will have 2 months to use your sessions.
This is your life – BE PRESENT FOR IT!
This workshop is led by Beth Mathews, RN BSN HNC-BC from the Center of Integrated Health and Linda D. Wiesinger, BA Psych, CiPP, CCC from Why Not Sprout?!
Our space is small and intimate; Class is limited to 15 humans
Workshop only – $65 (includes all the oils you'll need, the protocol, the blends & recipes with directions)
Workshop Package – $95 (includes all the above, PLUS three 30-minute individual sessions with Beth or Linda… a $100 value for just $30)
Prefer to use cash instead of a credit card online?  Please contact Linda directly to make your reservation!  Linda@whynotsprout.com or 610.222.0700
Appropriate for adults 18+
*Desiree Mangandog L.A.c, M.S.T.O.M, the creator and author of the protocol, recipes, and the book "I Am Fabulous" that we will be referencing for the essential oils part of the workshop, has graciously granted us permission to copy and distribute this information
___________________________________________________________________________
___________________________________________________________________________
"LIVE" AT PENN MEDICINE!

On Friday, October 27, I had the privilege of presenting one of our "Mindfulness You Can Use" programs at the Hospital of the University of Pennsylvania in Philadelphia as part of their Advanced Practice Providers week-long celebration.   I want to thank the Task Force Committee (Melanie!) for the invitation, as well as all of the special practice nurses and physician assistants who attended our "Get your "but" out of the way!" workshop.
Here's what people had to say:
"As advance care providers, we are educated to validate what our patients say.  Linda showed us that a "quiet listening" validation is just as valuable." – Phyllis
"In our busy lives, we rush to convey as much information as possible in a short period of time.  After spending time with Linda, I understand the value of avoiding the words "or" and "but" to get a message across." – Melanie
"The Mindful Pause is essential… not only for myself – it is an important interaction in any relationship." – Dawn
"Fun, informative, and very useful… not only for work; important for everyone, every day." – Mary
___________________________________________________________________________
THIS IS HOW SKIPPACK GIVES BACK!
September was gynecologic cancer awareness month – and we came together as a village to dedicate Girl's Night Out on September 22 to supporting this worthy cause! Why Not Sprout?! and 15 other Skippack businesses partnered with the Foundation for Women's Cancer & Wendy's Warriors to shine a bright spotlight on these less talked about "below the belt" cancers.
Through a combination of customer donations, shops donating a percentage of their sales, personal donations, along with gift baskets and gift certificates for raffling, SKIPPACK GAVE BACK in a most wonderful and generous way.
On Thursday, October 12, we presented Wendy Ericsson with a check for $812.00 for the Foundation for Women's Cancer.
I am feeling both proud and humbled by the outpouring of love and support, from my fellow business owners to every single customer that came out and shopped that evening.
THANK YOU ALL from the bottom of my heart!
PARTICIPATING BUSINESSES:
Accent on the Rocks
Artisans Nest
Floral and Hardy
Head Over Heels
Le Butler's Pantry
Pennsylvania Traditions
perch trading company
Skippack Sweet Spot
Southwest Trading Post
The Copper Partridge
The Coffee Grinder
The Skippack Hope Chest
The Village Irish Shop
Urban Fusion
Why Not Sprout?!
Wooden Duck
I also want to thank friends who donated their time that evening to deomonstrate holistic solutions to the challenges faced by those living with cancer. THANK YOU Beth Mathews & her husband, Neil (The Center for Integrative Health in Harleysville- nutrition, essential oils & accupuncture), Diane Kistler (Diane Kistler Yoga Therapy-pain managment), Ceil Nuyianes (Anahata-Reiki), and Lisa Scarborough (Moyo-Ayurveda)
LOVE TO ALL OF YOU!!!