THANKS TO ALL WHO CAME OUT TO CELEBRATE EARTH DAY WITH US!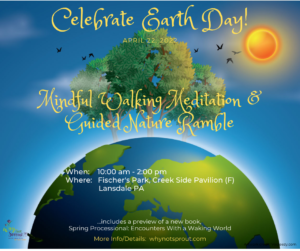 We had a lovely day at on Friday, April 22, at Fischer's Park!
Looking forward to next year!
About Trudy Phillips… and her husband, Craig Newberger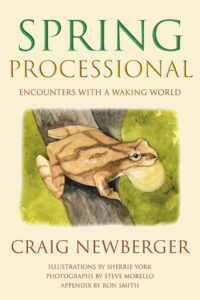 Trudy was the Director for Environmental Education at the Perikomen Watershe Conservancy for 26 years, and she has an indepth knowledge of all things natural at Fischer's Park.
Trudy's husband, Craig Newberger, served as the Lower School science coordinator at Germantown Academy in Pennsylvania for over three decades.
Together, this dynamic couple directed the National Audubon Society Youth Ecology Camp on Hog Island; they also founded and directed the Family Camp, and joined the instructional team for Audubon's camp for educators.
Craig just published a wonderful book: Spring Processional, Encounters with a Waking World.  Signed copies available for purchase at $14.95 (cash or check made payable to Craig Newberger).  Craig is planning to make an appearance at the event, so you might get to meet the author!
His book is also available for purchase on Amazon or Barnes & Noble.