Folks often ask me about the name, Why Not Sprout?! The name and the logo are in honor of (and now in memory of) my best friend, Wendy Ericsson. Diagnosed with Stage 4b uterine cancer in December of 2012, Wendy was the epitome of resilience, courage, and faith. After her initial diagnosis, multiple surgeries, treatments and more surgeries for hidden and stubborn infections – and then chemo – she was finally blessed with "no evidence of disease" or N.E.D as they call it. As she began feeling better and her hair started to grow back, she invited people to "pet her head" for good luck, because the new hair was all soft and fuzzy like a rabbit's foot. I teased her with "Hey, look – You're sprouting!" And the nickname "Sprout" stuck.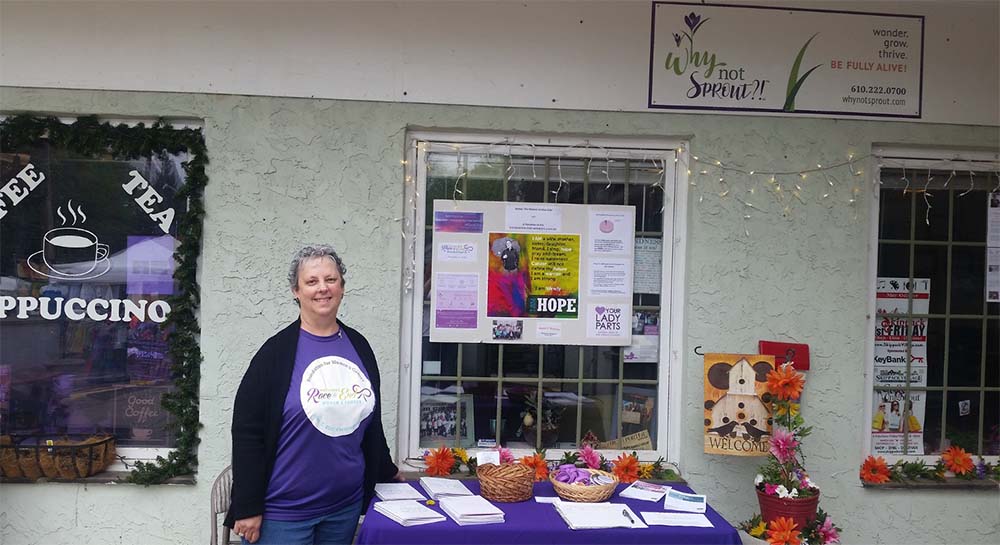 Her respite lasted around 3 years – and then the cancer was back. Even after more extensive surgery in March 2019 to remove her spleen, two spots on her liver and some pesky lymph nodes (as well as ~half of her diaphragm, which was totally unexpected), her next scan was not "clean." Sigh. Cancer sucks. In May of 2019, she underwent her 6th treatment protocol and 5th adventure with chemo.
Back to Sprout… as I was noodling names for the new company, it struck me that my thoughts were centered on a way to plant and nurture seeds of encouragement and growth in humans who were struggling – coaching as gardening. I kept thinking about Wendy, and it occurred to me that I wanted to help people Sprout. I called Wendy and asked what she thought about naming the new company after her – something that had to do with "sprouting." We quickly dismissed "Sproutala" and "Sprouts" (that one sounded too much like it should have "Brussel" in front of it). And then it came to me – a question that could be both an invitation and a provocation – Why Not Sprout?! Wendy approved.
When I shared the color palette I had in mind – green, purple, and a hint of orange and gold – she pointed out that I was describing a Crocus. The first flower to come up in the spring, it often has to push its way through frozen ground and snow; a flower that is strong and resilient in nature. And Why Not Sprout?! was born.


On July 27, 2020, the heavens added another bright star. Wendy Garrett Ericsson lived with courage, tenacity, dignity, and humor. She was as fierce and resilient as she was kind and compassionate. She refused to allow a cancer diagnosis to shape her life; instead, she turned and faced it head-on, making it her mission to raise awareness and funding (over $125,000 through Wendy's Warriors!) to combat women's "below the belt" cancers – all while also modeling what love and relationship teamwork was all about. My dear friend, I miss you so much. Yet I take great comfort in knowing that while your earthly presence is no longer here, your spirit light certainly shines on — and we are all a little brighter for having known you. Rest easy now, Sprout – your legacy lives on.