Start planting seeds… with Mindfulness You Can Use
Ever wonder why you act the way you do? Are you curious about how you might approach something in your life a little differently? With the intent of stimulating your thinking and offering a different perspective, each "Mindfulness You Can Use" seed explores and applies a learning from positive psychology, mindfulness, and other related fields. Tools and strategies for positive growth are offered in a way that is fun and engaging.
NEW! THESE CLASSES CAN BE SCHEDULED ON REQUEST, AND MOST CAN BE HELD AT WHY NOT SPROUT OR AT YOUR LOCATION!  They are not currently on the summer schedule – CALL if you are interested, and we'll work something out with you!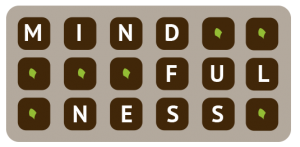 ONE-HOUR SEED CLASS Pricing 

Single Class/ Drop-in:  $18
4-pack:  $64  ($16 per class)
8-pack:  $112  ($14 per class)
10-pack:  $120  ($12 per class)

 
All of the opportunities on this page are one-hour classes.  You can mix-and-match all the one-hour Meditation, Yoga, and Mindfulness You Can Use SEED Classes. You have 3 months to use the passes in your selected pack (call Linda directly if you need an extension).

Purchase Seed Class/Packs Here

You will be directed to a pull-down menu.  Select the kind of pass you want.  Complete your transaction through MINDYBODY's Secure Website.  Then use your pass to register for the class you want!
Mindfulness You Can Use SEED CLASS Descriptions appear below (in alphabetical order).
This is a complete list of our capabilities at this time; more options are "sprouting"!  


Are You Playing Whack-A-Mole with Your Thoughts & Feelings?
Try to stop thinking about something – I dare you! What happens when you don't deal with an uncomfortable feeling or thought? It pops up somewhere else! Discover some mindful ways to think about your thoughts – and cope with distressing feelings. And play a rousing game of Whack-A-Mole in the process (literally!)
Fun Sway
Just as Feng Shui is a Chinese philosophical system of living and being in harmony with the surrounding environment, we created Fun Sway using mindful movements designed to bring you into harmony and balance with your body in time and space.  The human body is meant to move!  And in our push-button world, we don't move nearly as much as we need to in order to maintain our health.  Research has shown that there are physical benefits associated with slow, mindful movement practices.  In this class, you can expect gentle stretching, soft swaying, some movements with roots in Qigong & Tai Chi, and some simple dance steps – all coordinated with your breath, mindful awareness, and visualization.  The focus on the sensations of your body and the movement of your breath, will help you stay in the present moment and quiet your busy mind.
Note: We have a small, intimate space, which limits the number of participants.  This class is not intended to be a formal Qigong or Tai Chi practice; we are simply incorporating some moves from these ancient forms of mindful movement.
Get your "but" out of the way!
The words we use matter. Three very small words in particular are very powerful – in very different ways. In this workshop, we'll address how some words can shut down a conversation, and other words can open up worlds. We'll practice some mindful speech and mindful listening – and work to get your "buts" out of the way as we explore the power of "And"!
How Full is Your Bucket?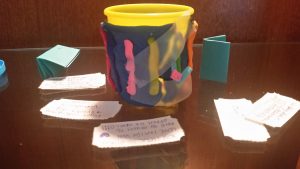 Who says playdough is just for kids? We'll make our buckets – and then fill them up! In the process, you will find out just how much you can learn from someone in a short conversation when you listen mindfully. And how important it is to know how to fill your OWN bucket. Research shows that directing our attention to the "positive" in ourselves and others is essential to well-being and resilience. Leave with a full bucket – and a full heart.
Is THAT Your Porcupine?
In this fun and off-beat workshop, explore some mindful strategies for coping with the prickly people in your life. Find out what might be underneath their behavior and learn about how keeping healthy boundaries can protect you from their quills. You will even go home with a Porcupine of your very own!
What's this "Mindfulness" Stuff About?
In this very BASIC introduction, we'll explore what mindfulness is – and what it isn't.  We'll talk about "the mind" and the challenges scientists have with deciding where it is located in the body.  We'll do a quick review of some of the research demonstrating the benefits of becoming more mindful.  And you'll be offered some practices and tools that can help you live more mindfully – starting now.

Seed Program Investment Details
The space is "cozy," so class size is capped at 8-10 (5 for Yin Beginnings*)
Pre-registration is required to secure a space (online or call)
The investment for any Single Class/Drop-in "seed" offering is $18 per class ($22 for Yin Beginnings*)
We offer a 4-, 8-, or 10-pack of Seeds, which would allow you to attend anyof the one-hour "seed" programs (Meditation, Yoga, or Mindfulness Classes) over a 3-month period (except Yin Beginnings*)
All Mindful Life "seed" classes last for one hour and are offered on a rotating basis
*You might have noticed – the exception is Yin Beginnings. Class size is being limited to 5 participants so that all participants can have individualized attention. Alternatives for poses will be explored so you can discover what your body reacts well to – and what it doesn't like or want to do. This offering is appropriate for those who are new to Yin or new to Yoga, and who would like to try it – in a private, intimate setting. The experience is designed to be almost like having a private lesson. This opportunity is only being offered twice/ month.